Title: Dating You / Hating You
Author: Christina Lauren
Date of Publication: June 6, 2017
Synopsis
Everyone knows that all's fair in love and war. But these two will learn that sabotage is a dish best served naked.

The first standalone romance by New York Times and #1 international bestselling author Christina Lauren (Beautiful Bastard) is a sexy, compulsively readable romantic comedy that dives headlong into the thrill and doubt of modern love.

Despite the odds against them from an embarrassing meet-awkward at a mutual friend's Halloween party, Carter and Evie immediately hit it off. Even the realization that they're both high-powered agents at competing firms in Hollywood isn't enough to squash the fire.

But when their two agencies merge—causing the pair to vie for the same position—all bets are off. What could have been a beautiful, blossoming romance turns into an all-out war of sabotage. Carter and Evie are both thirtysomething professionals—so why can't they act like it?

Can Carter stop trying to please everyone and see how their mutual boss is really playing the game? Can Evie put aside her competitive nature long enough to figure out what she really wants in life? Can their actor clients just be something close to human? Whether these two Hollywood love/hatebirds get the storybook Hollywood ending, or just a dramedy of epic proportions, you get to enjoy Christina Lauren's heartfelt, hilarious story of romance in the modern world.

Meagan's Review
Sometimes you pick up a book by one of your favorite author duos and stay up all night reading it and it's so amazing you buy copies for all your friends. And sometimes you pick up a book by your favorite duo and nothing clicks. Dating You / Hating You by Christina Lauren was one of those books.

The author's first big hit was Beautiful Bastard which dealt with two co-workers who hate fucked like their lives depended on it. The book was insanely hot, but also funny and extremely well written. So when I picked up Dating You / Hating You I was interested to see how Christina Lauren wrote a story a lot of the same similarities. Dating You / Hating You starts with the two main characters – Carter and Evie – set up at a party by their married friends. Carter and Evie find they have a lot in common and even though they're both workaholics they form a tentative relationship that surprises both of them because of how quickly they feel such an intense connection. However, when their two companies merge Evie and Carter find out they will both have to compete for the same job. Even though they try to handle this information like adults they soon start sneaking around behind each other's back to get a leg up while also playing pranks to drive each other crazy. But underneath all the backhanded compliments and capers is their intense attraction. Sounds like a great book, right? Unfortunately, I just couldn't get into it.

It's hard to explain how something that looks great from the outside just doesn't fulfill expectations. For me the story was just kind of . . . boring. The first few chapters were okay, but there was no spark that made me want to keep reading. In fact, I had to push myself to finish the book. I liked the characters but I didn't love them, which made it was hard to care about what happened to them or their jobs. I was also a little bummed that the intimate scenes were pretty fade to black. They weren't YA by any means but compared to Christina Lauren's previous books I thought they were pretty tame. It felt like an uneven balance between how much Evie thought about Carter's ass in suits or how much Carter though about Evie's cleavage and how much time they actually spent being physical. They built up this sexual tension only to not give us much when they finally came together. But sex wasn't my biggest issue, and I don't want anyone thinking I didn't like this book because it wasn't erotic enough. My main problem was the story felt a little bland for my taste.

One aspect that I did love was that the authors highlighted how much harder Evie had to work because she was a female. Plus, it made Carter that much more endearing that he acknowledge that Evie was being treated poorly because of her sex and tried to stick up for her (most of the time). It's a sad truth that I was glad was addressed especially since this book takes place L.A.
Everyone reads books differently, and I know there will be many people out there who absolute love this book. It just wasn't for me. Even though I didn't love Dating You / Hating You doesn't mean I'm going to quit reading books by Christina Lauren. I can't wait to see what they release in the future.
Excerpt
evie
Monday-morning meetings are going to be an issue.
Carter is sitting across from me, bent head-to-head with Aimee over a spreadsheet. I'm only now taking the time to notice that his hair has gotten a little shaggy in front, but he's kept it short on the sides and . . . well, I'm quite enjoying it. Today he's wearing a light blue shirt, and I don't know if it's intentional, but the top two buttons are undone, showing a nice hint of his pecs. Unfortunately, now I can't really blame him for the Evie Blouse Disaster of Late October, because there is no way I am telling him that I can see chest-below-collarbone for fear that he would remove it from my view. His sleeves are rolled up, exposing his forearms, and he's doing that fascinating trick where he flips a pen over the back of his hand.
Back and forth.
Back and forth.
He made me come with those fingers.
Back and forth.
My chest twists a little as I realize how hard I'm swooning, and how far that will take me. Because who knows what is going on between us? We sure haven't talked about what happened Friday.
After Jonah found us, we left the mixing room in silence. We walked down the hall and found that our presence was completely useless anyway: Jonah and the crew had the shoot under control, and we wrapped right on time.
After only a brief shared look of bewilderment, Carter went to his car, I went to mine, and we left separately. He didn't call, I didn't call, and we haven't made eye contact again. But, thankfully, we haven't melted back down into petty sabotage, either.
Oh, no.
I'm softening toward him again, which can mean only one thing: my defenses are down. It would probably be wise for me to make a list of all the ways he offends me on a personal and professional level.
1. He's too overtly sexy for the workplace.
2. He clearly can't button his shirts. Deleted b/c hypocritical.
3. He
I look up and stare blankly at the fingers flipping the pen back and forth across his hand.
I'll compile the rest of the list later.
I'm also—and I loathe saying it because I despise the cliché of two girls pitted against each other for the boy—slightly annoyed by Kylie. She's sitting at the end of the table near Brad's perch, waiting like all of us for the boss man to appear, but she isn't even trying to be subtle about staring at Carter. She may or may not be having an affair with Brad, but she definitely wants to bang Carter. I am zero percent on board with this plan, because just before I light his tight pants on fire, I'd like to actually have sex with him.
Maybe that'd get him out of my system.
"How was the Vanity Fair shoot?" Brad asks, strolling into the room, and both Carter and I jump.
"Great!" we exclaim in unison.
Brad narrows his eyes at us, and Carter grins. "It went off without a hitch."
I nod. "No bumps."
"Or grinds," Carter adds, and stifles a grin.
I stare at the table, trying to strangle down my laugh. The giddy thrill of having Carter acknowledge what we did on Friday makes me want to jump on the table and start channeling Missy
Elliott.
Out of the corner of my eye, I see Brad sit up. "Yeah?"
"They got all the shots they needed," Carter says. "Everyone left happy."
"On the whole, I was very satisfied," I add.
Carter coughs, and the room falls into a heavy silence.
Brad's steely gaze narrows and he glances back and forth between me and Carter, who are very pointedly not looking at each other. "What am I missing?"
"Nothing," we say in unison again.
"I don't want to know any more," Brad says, turning to Ashton.
Everyone is awkwardly shifting in their seats, looking at each other in silent What do you know about this? communication. No one cares about the photo shoot; there's drama all the time at those things, but it's rarely between the agents. Now they're pigs sniffing for truffles. Our colleagues are either dying of curiosity or convinced they know something, but no one is oblivious. Not in this business.
I glance over at Kylie and catch her sullen pout directed at Carter. He seems to catch it at the same time, doing a tiny double take before busying himself with something on his phone.
But I don't miss the way he peeks up at me, eyes shining.
"Ashton," Brad says, "have you heard back from Joe Tierney over at Paramount?"
"He moved to DreamWorks last week," I say absently, tearing my attention from Carter.
Everyone goes silent.
It's an unspoken rule that any correcting of the boss is done way more subtly than that. Brad is top dog here. Brad is the first to know everything. That's the rule, did I forget about that?
"No. I don't think so," Brad says, pulling his glasses lower so he can peer at me over the rims. "He's there until March."
I wince, shaking my head, inwardly telling myself to shut the hell up. The last thing I need to give Brad is another reason to dislike me.
"He left early. Wiggled out of his contract." I try to lighten this with a little smile, but Brad just stares blankly at me for several silent seconds.
"Getting out of a contract. What an interesting idea." The room is as silent as a grave. "Thanks for the clarification," he says, slow-blinking back down to his notes and writing it down.
My good mood vanishes. What have I just done?
Text copyright © 2017 by Christina Hobbs and Lauren Billings. Published by  Gallery Books, an imprint of Simon & Schuster, Inc.  Printed with permission of Simon & Schuster, Inc.
About the Authors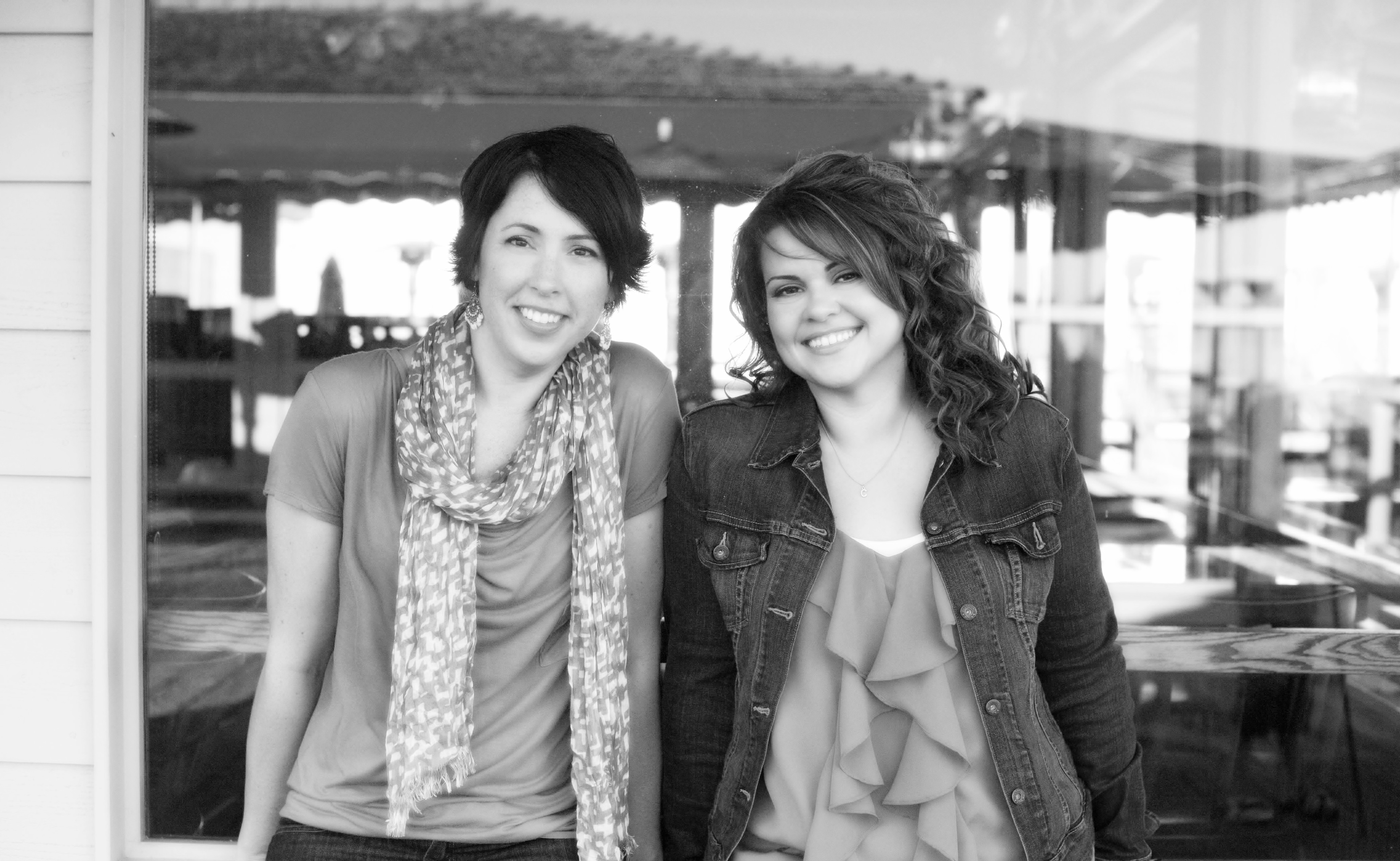 Yes, there are two of us! Lauren (on the left) and Christina (on the right).
Christina Lauren is the combined pen name of long-time writing partners/besties/soulmates/brain-twins Christina Hobbs and Lauren Billings. The coauthor duo writes both Young Adult and Adult Fiction, and together has produced seven New York Times bestselling novels. Their books have been translated into 23 languages.
Lauren Billings (but everyone calls her Lo) has a Ph.D. in neuroscience and before she made writing her full-time job, would spend her days doing nerdy research-type things wearing a lab coat and goggles. She is silly Mommy to two littles, wife to one mountain biking homebrewing scientist, bestie to a shoe-stealer, and an unabashed lover of YA and romance.
Christina Hobbs (but you'll always hear Lo call her PQ) used to spend her days in a junior high counseling office surrounded by teenagers. Married to the cutest boy in school, she has a thirteen year old daughter, is an unapologetic lover of boy bands and glitter, and also likes to steal Lo's shoes.
You can follow their shenanigans at:
@lolashoes (Lauren) & @seeCwrite (Christina) on Twitter. On Tumblr! where we post kissing gifs and writerly stuff and Wattpad for short stories and sneak peeks!
For official information about their books, events, interviews, movie news and more, follow @christinalauren.
Giveaway
a Rafflecopter giveaway