Series: In the Shadows
Author: P.T. Michelle
Mister Black: A Billionaire SEAL Story (In the Shadows #1)
Publication Date: June 14, 2014
We all have someone who crossed our path and fundamentally changed us. That one person who blew through our lives, their presence forever stamped on our psyche. They linger in our thoughts, in our hearts, and in the decisions we make. A soul crusher or a dream maker, depending on the perspective.

My person is MISTER BLACK.
I didn't know him by that name when I first met him.
I didn't know him at all, but the impression he left behind was just as powerful as the name I call him today.

He is Black: a deadly enforcer and masterful seducer.
I am Red: a justice bleeder and willing participant.
Together we are passion. Colors colliding through each other's lives.

When our secrets converge in a passionate encounter,
stepping out of the shadows just might be worth the risk.
Christina's 5 Star Review
Talia comes from a dark past in which she has had to fend for herself and learn how to survive on the streets. A chance encounter with a wealthy stranger one night sets her life on a different path and eight years later, she finds herself pursuing a college degree as a journalist. When a co-ed on campus dies under mysterious circumstances, Talia is in pursuit of answers. She has been unable to speak to the deceased's best friend and is just short of being served a restraining order to keep her from doing so. When Talia's best friend proposes crashing a party at the deceased's friend's home, she jumps at the opportunity to get answers to her questions. 
Sebastian is a man of mystery. From his first encounter with a thirteen-year-old Talia on the dangerous streets, he takes an interest in her life. He sees that her home situation is somewhat dire and he gives her an expensive watch, which could easily be sold to help provide much needed money to keep her complex family out of financial ruin. When he makes Talia's acquaintance again at the party eight years later, he does not remember her, however he is immediately attracted to her. He is at the party in a "security" capacity, and not exactly forthcoming in the relationship he has with the family that owns the home.
Even though their first encounter is a simple ride home for Talia, an act of kindness by Sebastian after she is nearly accosted by a homeless man, it seems that their paths were meant to connect…more than once.
Under the shroud of anonymity of the masquerade, Talia and Sebastian have a heated exchange that is so sexually charged it is molten. Sebastian helps Talia to obtain some of the information she is looking for for the article she is writing and wants to meet with her again. When Talia realizes the situation is too complicated, she backs out of meeting with Sebastian again. She returns the watch to Sebastian, however he doesn't receive it right away, as he has been called away…
Mister Black is a sensuous, titillating, tale of secrets and intrigue. Normally I am not a fan of serials, however this is one that I am definitely on board with. I am looking forward to seeing how the relationship between Talia and Sebastian plays out as their secrets are revealed. The chemistry between the two is explosive and will leave you wanting more. The characters are well developed and the storyline had me hooked from the first page. Hands down a five star read.
Scarlett Red: A Billionaire SEAL Story (In the Shadows #2)
Publication Date: September 23, 2014
Mister Black swept in and out of my life like a tornado, leaving me twisted up and forever changed in his wake.

And now that my life is finally back on track, I need to move on, despite the many reminders of our time together.

But our pasts are only as far away as the shadows we hide behind, and sometimes those shadows grow darker, converging on the present in the most insidious way.

He is Black: a stealthy hunter and rainbow master.

I am Red: a truth seeker and desire keeper.

Together we are obsession. Passionate colors destined to be drawn together.
Christina's 5 Star Review
This is the second installment of this series, it is not a standalone so it is highly suggested that you read the first in the series, Mister Black, first. Trust me, you'll want to anyways because it is HOT!
Three years have passed since that fateful night that Sebastian and Talia cross paths for the second time. Talia has always wondered what happened to Sebastian after he left to deploy with his SEAL unit and Sebastian still does not understand why Talia did not show at the coffee house.
When Talia's aunt sends her along on a singles weekend, Talia makes the acquaintance of Bash, the pilot of the helicopter that takes her from the airport to the estate, as well as the go to handyman. Talia senses she recognizes him from somewhere, but can't seem to pin down where it is from. She sees a resemblance in him to Sebastian, but he is missing the one trademark Sebastian owns, his eyes are different colors.
Bash starts hanging around Talia, being more than a little protective of her. She soon learns his true identity and things suddenly become more complicated. There are things left unsaid between the two and many secrets they have yet to share. Ms. Michelle drops a bomb on us at the end that left me salivating for the next chapter in Sebastian and Talia's story. 
In the second installment of the In the Shadows series Ms. Michelle does not disappoint. The mystery and intrigue from the first book is continued in the second volume. The intrigue serves to build a sexual tension between Sebastian and Talia that is just plain scorching hot. Once again the characters are amazing. Their complexity only adds to the overall story. Ms. Michelle definitely knows how to write a cliffhanger as witnessed in the first book and the one in this book takes the cake! While the two books are relatively short, they are packed with all of the elements that make a romantic suspense novel. With equal parts of sex and mystery, this series titillates like no other. This was another five star read for me and I know I'll be counting the days until the next book in the series is released!
About the Author
P.T. Michelle is the NEW YORK TIMES, USA TODAY, and International Bestselling author of the New Adult/Contemporary romance serial IN THE SHADOWS, the YA/New Adult crossover series BRIGHTEST KIND OF DARKNESS, and the romance series: BAD IN BOOTS, KENDRIAN VAMPIRES and SCIONS (listed under Patrice Michelle). She keeps a spiral notepad with her at all times, even on her nightstand. When P.T. isn't writing, she can usually be found reading or taking pictures of landscapes, sunsets and anything beautiful or odd in nature.
Come chat with P.T and other fans on her Facebook page
ALL SOCIAL LINKS:   Website | Twitter | Facebook | Goodreads | Pinterest | Newsletter | Tumblr | Contact
P.T. loves to hear from readers. If you want to share your thoughts on her books, click on the contact link above and send her an email.
To keep up with information on the next P.T. Michelle or Patrice Michelle release,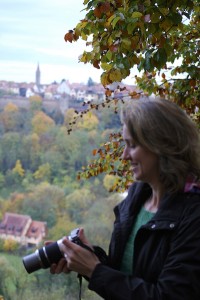 be sure to sign up for P.T.'s NEWSLETTER. It'll come straight to your inbox.
~*~
P.T. is an American living in France (for now

), and when she's not writing, her other passion is photography. She often shares her snapshots of her adventures on her Facebook page.
P.T.'s FB page is also where she spends most of her time interacting with readers and talking about her favorite subject, books.
She hopes you'll join her.